Golf apparel is an essential when it comes to perfecting your golf performance and look, so it pays to invest in quality. For 2023, look no further than the best golf shirts for men.
These men's golf shirts are lightweight and breathable and are crafted from innovative fabrics, ensuring superior comfort and performance from the course to the clubhouse.
With options in classic colors and innovative designs, now is the perfect time to upgrade your golf wardrobe with one of these modern and stylish golf shirts. Read on and discover the top golf shirts for men in 2023!
The Best Golf Shirts for Men in 2023
No more delaying! Take a look at Just Golf Stuff's selection of the top 10 golf polo shirts for men in 2023!
Nike Dri-Fit ADV TW Tiger Woods Blade Golf Polo
Designed to resemble exactly what Tiger Woods prefers, the Nike Dri-FIT ADV Tiger Woods Polo offers lightweight, sweat-wicking performance for maximum confidence on the course. It's certainly one of the best golf shirts for men you can buy in 2023. With signature branding like secret details under the back hem, a logo beneath the collar, and "Engineered to the exact specifications of Tiger Woods" printed inside the back hem, you can reflect Tiger's style.
Breathable fabric constructed with extra stretching properties allows air to flow through the fabric so it won't cling to your body. This design also features shoulder seams that are rolled forward, underarm gussets for extra space to move, and a concealed snap placket that produces a low-profile look and a perforated back of the collar stand to promote ventilation.
Adidas Go-To Camo-Print Polo Shirt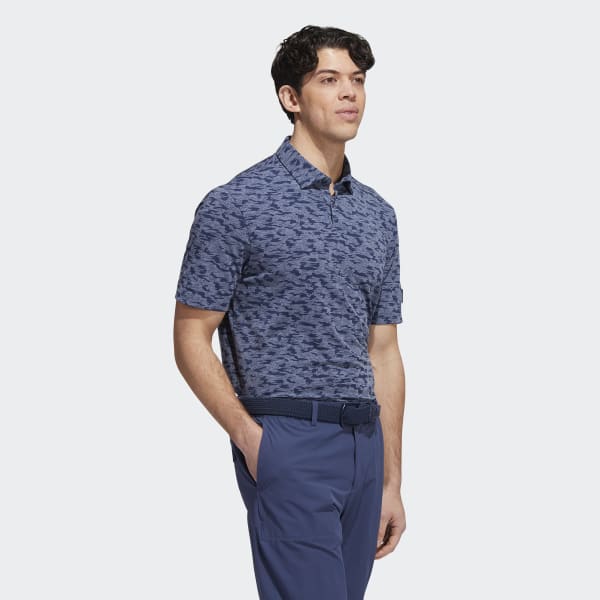 This Adidas golf polo shirt is the perfect choice for a casual course style, as its fabric blends cotton for a rich feel with a stretchy build and moisture-management to help you reach your peak performance. It also features an allover print for a stylish and modern look that fits in great at the clubhouse.
Adidas golf products are an excellent line of products. Adidas is well-known for producing high-quality and innovative products, and their golf line is no exception. Adidas golf products offer superior comfort and performance and are designed for both recreational and professional golfers.
Adidas also offers various styles, from classic designs to modern, innovative looks. In addition, Adidas golf products are designed with innovative fabrics and technologies that help keep you cool and dry, no matter how long you're playing. All in all, Adidas golf products are definitely a great choice for any golfer looking for reliable and stylish golf apparel.
Callaway Vent Performance Golf Polo
This golf polo shirt is an excellent choice for playing in the heat and staying cool. It is crafted with Opti-Dri and Opti-Vent technology, which wicks moisture away from the body and allows maximum breathability. The even better news is that this garment offers comfort as well, with a rib knit collar and a three-button placket featuring Callaway embossed buttons.
The double needle hemmed bottom and side vents provide extra room to move and a neat fit, while a heat seal label ensures tag-free comfort. As the perfect finishing touch, there's a raised rubber Callaway heat transfer on the right sleeve. Made of 5.3 oz. 100% polyester pique mesh stripe knit fabric, this polo is sure to keep you comfortable and looking good for rounds of golf.
Greg Norman X-LITE 50 PRINTED WOVEN GOLF POLO 
This Greg Norman golf polo shirt is designed for stylish performance on the course. It has a classic short sleeve design with a two-button placket featuring metal logo buttons and a tailored collar. The lightweight performance fabric has 4-way stretch for maximum comfort and mobility, while PlayDry technology wicks moisture away from the body to keep you feeling dry.
For protection from UV rays, the fabric offers UPF 30+ protection for covered areas. It also has a mini-diamond print for a subtle style suitable for both on and off the golf course, as well as a shark logo on the bottom left hem. This garment is available in Medium size, with measurements of 44" chest, 20" sleeve length, 28" front length, and 29" back length. Though measurements may vary by size, the fabric remains the same: 88% polyester, 12% spandex.
Nike Men's Dri-FIT Player Novelty Golf Polo
This Mens Nike Golf Dri-Fit Player Novelty Polo Shirt is a must-have for the serious golfer. Constructed using a stretch fabric, it produces a highly mobile, moisture wicking garment that is designed to keep you comfortable and dry. Nike Dri-FIT technology moves sweat away from the body, regulates body temperature, and provides breathable comfort for when things start to heat up.
Its 3 button placket and allover micro houndstooth detail add a sophisticated look. The silver ignot Swoosh at the left sleeve shows off the Nike brand logo. Made of 58% Cotton and 42% Polyester, this polo shirt is designed for a Regular fit. Whether zipping around the course or lounging in the clubhouse, you can expect to be cool and dry in this stylish golf apparel.
Travis Mathew Men's Chilly Track Polo
The
 Travis Mathew CH
ILL
Y
TR
ACK
 golf pol
o
is
the
perfect
combination
of
style
and
comfort
.
It
features
a
small
-
scale
geo
print
combined
with
soft
micro
-
strip
es
,
making
it
a
great
choice
when
you
want
to
dress
up
your
look
.
Built
-
in
collar
stays
keep
the
shirt
in
its
perfect
shape
,
while
a
Cotton
/
Poly
ester
blend
offers
easy
wash
-
and
-
wear
convenience
.
The
garment
also
has
enhanced
stretch
,
wr
inkle
resistance
,
and
supreme
comfort
&
mobility
thanks
to
the
L
ifestyle
Performance
fabric
.
Models
featured
in
the
product
images
are
an
average
of
6
'
1
"
and
180
lbs
,
wearing
a
size
Medium
.
Whether
hitting
the
course
or
hitting
the
town
,
the
CH
ILL
Y
TR
ACK
pol
o
will
make
sure
you
look
great
and
feel
great
all
day
long
.
Adidas Jacquard Polo Shirt
This adidas golf polo shirt is breathable and comfortable. Its fabric gives it a textured feel that lets air flow freely, while four-way stretch ensures maximum mobility. You'll also be sure to stay safe from the sun with its built-in UV coverage. And its environmentally-friendly credentials won't go unnoticed, as it is made with 100% recycled materials. This is just one of the ways we are committed to helping end plastic waste and make a difference to the planet.
Ping 1A Putter Polo
This Ping 1A Putter Polo is a brilliant combination of design and comfort. Drawing inspiration from Karsten Solheim's original technical drawing for 1A putter, this polo has a unique geometric shoulder pattern that makes a statement. The colour tipped, ribbed collar enhances the look, but also helps keep you cool and comfortable on the course.
It is also flexible and breathable, equipped with features like Moisture Movement, Quick drying, UV Protection, Crease Resistant and Stretch. Finally, the Feature Back Neck Tape adds extra comfort and quality. With such slick style and smart features, no one will ever question your commitment to the game.
Puma X PTC Golf Polo
The PUMA X PTC Polo offers an eye-catching style and incredible comfort. Featuring a Palm Tree Crew inspired design, this performance-ready polo brings tropical vibes to any outfit. The fabric offers Moisture wicking and 4 way stretch capabilities, plus the super soft and breathable CLOUDSPUN construction. There's also custom neck tape and original 'Chase Dreams' and Puma x PTC Collab embroideries.
Finally, the 50% Cotton - 50% Polyester construction is lightweight and comfortable. Whether it's on the course or a night out, this polo guarantees you look great and feel great all day long.
PUMA golf apparel are excellent. The brand has a reputation for creating high-quality and stylish activewear, and their golf apparel is no exception. PUMA golf apparel is designed with innovative fabrics and technologies that offer superior comfort and performance on the course. The styles are also unique and fashionable, so you can feel confident and look great while out on the course. Whether you're a beginner or a professional golfer, PUMA golf apparel has something to offer everyone.
Travis Mathew Finger Lakes Men's Golf Polo
The elevated geo chest stripe of the Finger Lakes golf polo is sure to turn heads. A printed logo on the back yoke and built-in collar stays create the perfect shape, while a Polyester/Cotton/Spandex Blend offer easy wash-and-wear convenience. Boasting enhanced stretch, wrinkle resistance, and supreme comfort & mobility thanks to the Lifestyle Performance fabric, this is an excellent choice for comfortable golfing in style.
Whether you're on the course or out with friends, this shirt stays looking sharp and feeling comfortable to the last hole and beyond.
Pick yours!
When it comes to quality, performance and style, the best golf shirts for men in 2023 have it all. From classic colors, comfort-oriented fabrics and innovative designs, there is a shirt to fit every look, style and budget.
So when you are ready to take your golf game to the next level, look no further than these top-of-the-line golf shirts and make sure you are ready to hit the course in style.
Of course, you might also consider to shop for masculine golf shorts and pants, or even a brand new golf jacket for men. You'll find all of that at Just Golf Stuff!
Remember that Just Golf Stuff offers free shipping for orders above $99 in Canada and you can count with our refund period with you're not satisfied with your purchase.
Don't lose the hottest deals on golf shirts! Browse our collections and deals!